Description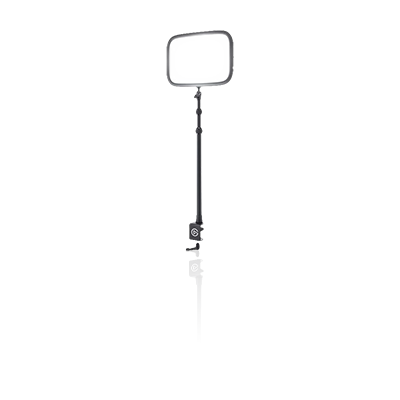 Elgato Key Light
Stand in the spotlight
The right lighting is essential for high quality camera shots. Your smile, your cheers, your concentration and your enthusiasm - viewers want to see every facial expression in detail. After all, you play the main role in your videos. Your viewers subscribe to your channel to see you. And with Key Light, everyone can see immediately that you are a professional.
Designed for the desk
Conventional studio lighting can bring clutter to your setup. With Elgato Key Light, this problem is a thing of the past. The optimized profile is made of solid metal and keeps your workplace tidy. It does not come into contact with the floor and can be attached flush to the wall. Simply attach the rod holder to your desk, set the optimal length and you're good to go.
Put softboxes in the shade
While softboxes make you sweat, Key Light keeps the heat impressively low - despite its enormous output of 2,800 lumens. 160 high-quality LEDs from OSRAM provide extremely bright light that can be dimmed to give a subtle glow. A color temperature range of 2,900 to 7,000 K enables nuances from sunny amber to arctic blue. In addition, velvety opal glass ensures uniform light distribution without dazzling, at the optimum angle.
Always at hand
You may know this: you jump up to adjust the settings and still get an overexposed image. With Key Light, hard-to-reach control buttons are replaced by a direct WLAN connection to your PC or Mac. Thanks to the Control Center app, you can easily optimize your lighting settings with your mouse and see the result in real time. You can also synchronize as many key lights as you want.
Compatible with Stream Deck.
Lighting, camera, action - all with just one tap. Stream Deck takes Key Light to the next level. Thanks to direct integration, you can adapt your studio lighting individually to your requirements. Switch on, adjust brightness, optimize color temperature and much more. You can even save different settings for quick access later. And that's just the beginning, because with Stream Deck you get new integrations all the time.
Reviews
Displaying the latest reviews via the independent online rating service provider
eKomi
Customer reviews for the previous versions of the product
Die App ist zickig aber die Lichter Klasse.
Weiches Licht was kaum Schatten wirft.
Die Temperatur ist auch akzeptabel, meine Hue lichter werden deutlich wärmer als die Elgato.